Sobo Gold
Offshore Approved Aqueous Rigwash − OCNS Gold Standard
A powerful, biodegradable rigwash and oil degreaser that efficiently removes oil and grease contamination.
Sobo Gold is both marine and separator friendly. 
A blend of biodegradable surfactants and wetting agents
OCNS Gold Standard
pH below 9
Low to medium foamer
Benefits
Marine friendly
Separator friendly
pH below 9
Low to medium foamer
Approved for use in offshore installations: OCNS Gold Standard
Biodegradable
Where to Use
An Internationally approved (OCNS Gold Standard) offshore rigwash and oil degreaser.  
How to Use
Apply by either contact, dip, immersion or spray application.
Use as supplied for heavy duty degreasing.
Allow a contact time of 2-3 minutes, then rinse with clean water.
Dilute to 4−6% for general rig wash activity and janitorial cleaning.
Dilute to 2−4% when used as an industrial laundry additive.
Maximum dilution: 0.5%.
Pack Sizes
1000 Litre

200 Litre

25 Litre

4 x 5 Litre
Technical Data
| | |
| --- | --- |
| Appearance | Pale yellow liquid |
| pH | <9 |
| SG | 1.05 |
| VOC Content | Zero |
Find out more about
Sobo Gold
Close X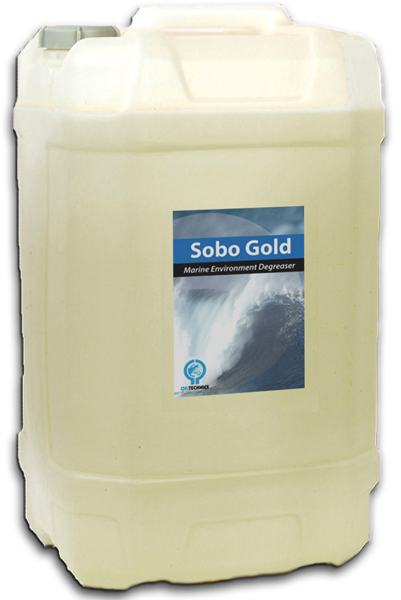 Back to top