Lemsolv Industrial
Fast Working, Heavy Duty, Water Rinsable Degreasing Solvent
A highly efficient heavy duty solvent degreaser.
Environmentally friendly and readily biodegradable, Lemsolv Industrial removes the most tenacious grease, heavy oil, wax, asphaltines and bitumen emulsions.
A blend of biodegradable surfactants and performance enhancing solvents, Lemsolv Industrial has a very high solvency factor (+100Kb), enabling it to penetrate and lift even the heaviest of oil contamination quickly and safely.
Our new formulation of Lemsolv Industrial has an elevated Flash Point (65°) and is no longer classified as flammable for transport. A safe to use and eco-friendly alternative to some of the more hazardous and highly flammable solvent degreasers currently on the market.
Heavy duty degreaser and parts washer cleaner
Water rinsable and separator friendly
High solvency and high flash point
Readily biodegradable 
Free from chlorine and other hazardous solvents
Free from D-limonene (see FAQs section here)
Our new Lemsolv Industrial has all the power of our old formulation but with improved safety and environmental benefits!
Effective & powerful
Removes the heaviest of oil contamination including stains caused by heavy oil, grease, asphaltines, oil from machines and wax
Heavy duty product with excellent material compatibility
Use on oil tanks, equipment, chains, machinery and floors
Environmentally friendly
Biodegradable - naturally breaks down in the environment, leaving no soil residue and with no hazard to grass and plants.
Non-toxic and with no potential for bioaccumulation (see our FAQs section here)
Reduced VOC content
Safer to use
Not classified as flammable - elevated Flash Point of 65°C
Not classified as a skin irritant
Quick and easy to use
Fast-acting grease and heavy oil remover
Ready to use formula with no mixing or preparation needed
Water rinsable and separator friendly
For more information, please visit our FAQs section here.
Where to Use
Removes heavy oil, wax, grease, asphaltines and bitumen emulsions up to 10 times faster than traditional solvents from cleaning oil storage tanks and equipment.  
Lemsolv Industrial is extensively used throughout the engineering and transport industry as a cleaner and degreasing fluid for:
Heavy plants
Engines
Machinery
Workshop floors
Chains
and many others...
How to Use
Use as a contact, dip, immersion or spray on degreaser.
Apply undiluted to the oil contaminated area and allow a contact time of 10−15 minutes before rinsing with water.
Allow up to 60 minutes when used in the cleaning of oil tanks or heater tubes.
For best results use hot water to rinse clean.
Pack Sizes
1000 Litre

200 Litre

25 Litre

4 x 5 Litre

12 x 0.5L trigger sprays
Technical Data
Appearance
Pale yellow liquid
Specific Gravity
0.90
pH
7.0
Biodegradability
54% (BOD/COD 20 day ratio)
Viscosity
Non-viscous
Flash Point
65°C (not classed as flammable for transport)
VOC Content

<

20%
Insulation resistance    

1.5m Ω
Please see a comparison table of the main differences between Lemsolv Industrial's old formulation and new formulation below:
 

Old D-Limonene formulation

New formulation

 D-Limonene content

Contains D-Limonene

Contains no D-Limonene

 Hazard statements

H226: Flammable liquid and vapour.

N/A

 

N/A

H304: May be fatal if swallowed and enters airways.

 

H315: Causes skin irritation.

N/A

 

H317: May cause an allergic skin reaction.

N/A

 
H318: Causes serious eye damage.
H318: Causes serious eye damage.
 
H410: Very toxic to aquatic life with long lasting effects.
 N/A

 Toxicity & persistence

Toxic to aquatic organisms and toxic to soil organisms. 
Negligible ecotoxicity 
 Biodegradability
Not biodegradable.

Readily biodegradable:

54% BOD/COD ratio (20 day)

 VOC content
 < 70%
 

<

 20%

 Flash point
 57˚C
 65˚C
Transport classification

UN Number UN1993, Contains terpenes, transport class 3, packing group III, Environmentally hazardous.

N/A
 Label pictograms
 
 
N/A
 
 
N/A
Why did we make these changes?
Removal of D-Limonene - reduces VOC content and environmental and user hazard
Increase performance - new solvent has higher solvency value for effective cleaning properties
Reduce environmental impact - biodegradable, non-toxic and with no potential for bioaccumulation
Greater Flash Point -  we wanted to increase safety of Lemsolv Industrial so we managed to increase by 8˚ the old formulation Flash Point so it is no longer classified flammable for transport. 
Find out more about
Lemsolv Industrial
Close X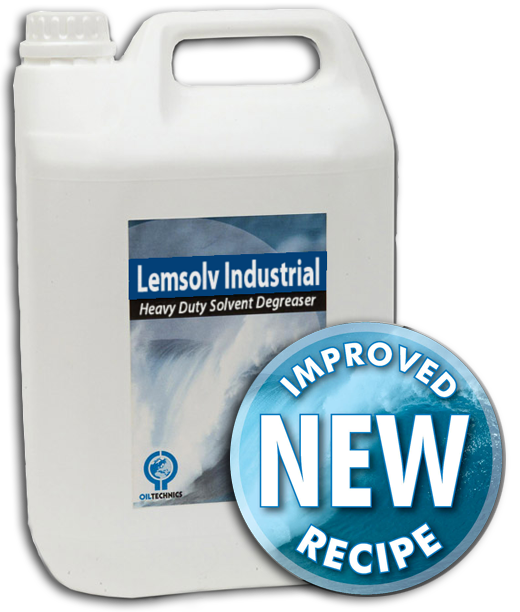 Back to top